So, we meet again, Wednesday.
For those of you that are interested, here is a little about my WIP (work in progress, since I haven't said the actual words in a long time)
Word count for Clockwork Charlie: 26,547 (Not a big change here, trying to focus on the day job for now so we can continue to live in a house with a roof and eat food. I'll be back to a daily word count soon, I hope.)
To be found in those words:
Lots of things on fire (a hotel for instance)
Handcuffs made from the roof of a car
A robot using swords
I will post an excerpt here soon :)
Also, I am still waiting on Smashwords to approve The River Runes for their premium catalog, though you can already find it on
KINDLE
or in
PAPERBACK
, if you prefer. Just click those links to check it out!
If you have not already, you should join in on the 50 to 100 Giveaway. Just click the badge and read all about it!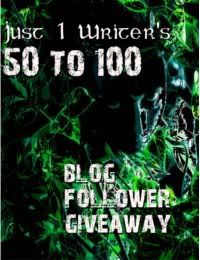 That's it for today,
thanks for reading,
buh bye then